Big In Albania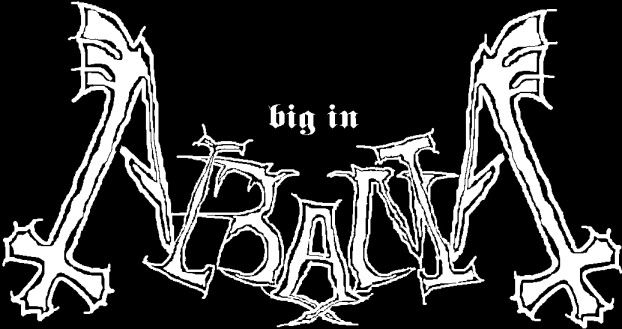 War, Famine, Pestilence and Disco. Pure evil since 2004. Pure rubbish since slightly after that. Kneel before me, ye mortal minions, and electric boogaloo with fear.
Album downloads are back online, see the respective pages on the wiki or below.

See news above. I'm free if anyone wants to book me. At least free in the sense of available.
Contact biginalbania (at) hotmail dot com for further enquiries.
BIA has appeared live more times than i can remember the dates for since 2005 with artists both local and touring such as: Fast Lady, V/Vm, Scorpio Scorpio, Mixomatosis, Solypsis, The Fez!, Cats Against The Bomb, Grabba Grabba Tape, Legion Of Legomen, People Like Us, Fuzzface, Nina Wright, Robot Ninja Dinosaur Bastards, Emo Hunter, Tryptomatik, 2 Rabbits, Amputee Cliniq and Hugh O'Donnell who put sandwiches up his bum.

Self released demo CD-Rs
(all in very limited numbers with poorly printed home made artwork)
The Eighties Movie Soundtrack Disaster - 6 track demo 2004
Pixel Dust - 10 track demo 2004
Escape From The Eighties Movie Soundtrack Disaster - 6 track demo 2004
Dance Like 1984 - 7 track compilation of previous demo tracks 2004
Live At Colchester Arts Centre - 1 track live set (not actual live recording) plus video 2005
The Eighties… + Escape From The Eighties - earlier demos compiled on one disc 2005
Official Self Released Big In Albania Albums
A Special Dedication - 5 track limited edition for friends only in honour of an engagement 2005
The Eighties Movie Soundtrack Disaster: Director's Cut - 7 selected tracks from demo version plus video2005
Split - split EP with Chau Project, 2 BIA tracks + video 2005
Please Recycle - 15 track album 2007
Iconoplastic - Digital Vomit compilation of odds and ends
Gash - New album for 2011
Unreleased
Untitled 3rd Eighties Movie demo - mentioned on Escape from… sleeve, doesn't actually exist at all!
Pop Will Sh*t Itself - unfinished demo, abandoned due to poor quality of tracks, would have been finished 2006.
Some mp3 files are in existence with the album information in the ID tag file despite nothing ever being released physically.
I DESTROYED DISCO - http://m-pi.com/digitalvomit/dvr021.zip
see the releases page for more info.
PLEASE RECYCLE - the gesarmkunstwerk you've all been waiting for, downloadable for a limited time only!
CURRENTLY UNAVAILABLE
ICONOPLASTIC - http://www.m-pi.com/digitalvomit/dvr018.zip
see the releases page for more info.
GASH - download via oron
http://hallo-excentrico.blogspot.com/ contains two high quality BIA eps at a non-existant price.

my blog with downloads and stuff
click here for myspace, you weak pathetic fools!
Facebook users, click here to fill the void in your empty life